Finally got down to finish my suitcase mini album last weekend! I completed the suitcase (meaning the casing you see above) during the Scrappin' Love 2nd Birthday Party Workshop but there wasn't enough time for the album so we were given "homework" by the teacher to complete.



And ta-da! Here's the front of the cover. We actually did the Front and Back cover of the mini album during the workshop, but the others were all left blank le. Really love the use of all the washi tapes!



The back of the album. Got a chance to use the Big Bite during the workshop and it was really heavy and bulky. My fingers felt so tiny with it but it was really effortless to push through the eyelet. If you don't know, i am still using the hammering way to push the eyelets through my projects.



Holiday photos taken 2 years ago, thats why i may look different. Hopefully i look better now. haha!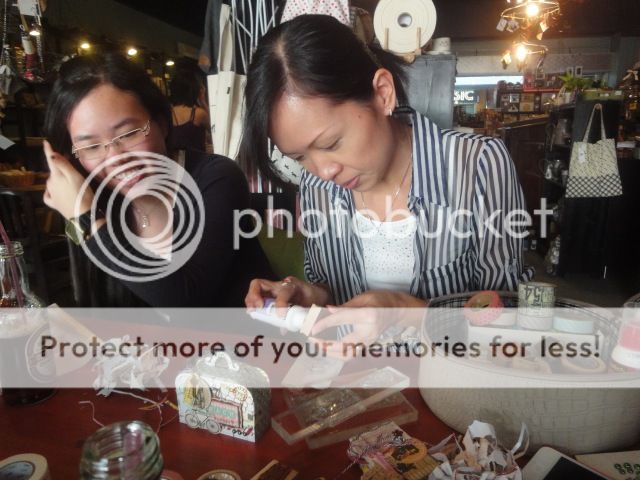 The teacher aka the owner for Scrappin' Love started cleaning the stamps once the lesson was over. We did a bad thing by sitting there watching her clean while we chatted away. =p



This is Michelle.. who happens to be my good friend's colleague. Actually my good friend won the draw but she had to fly off to Aussie, so she gave her place to Michelle instead.



Here's the attendance for the day!

Heard that the kit for the suitcase mini was a sold-out! Congratulations Scrappin' Love!