This photo is by far the best photo taken by my Holga BC camera. Some of you may know, i don't really enjoy playing with my Holga. I should have gotten a BBF or a Film DSLR.

Anyway, i wasn't very keen to write a post to sum up my 2009 cause i felt there were tooooo many things happening. I think as we grow older, every year we experience many transitions in our life. Unlike in secondary school, we sum a year of school and wait for the another year of school to come by. And most of the time, our resolutions would be to study harder. Even in Poly days, we make resolutions to study harder, but who ever achieves it? LOL. I'm going to be honest with myself and stop making new year resolutions.

Have been facebooking non-stop (what's new?) until i saw someone posting this "2010 in 23hrs!" Then it suddenly hit my head that its LESS THAN A DAY before i step into a new year. And suddenly, i decided to look back in my 2009 and what i will be facing in 2010.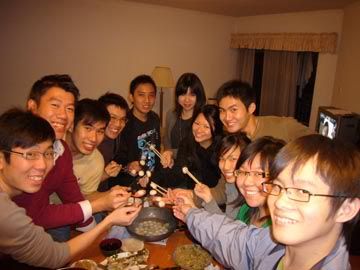 The beginning of 2009, i had it spent in China. A few days in Beijing, a few days in hangzhou, a few days in nanjing, a few days in zhouzhuang, a few days in yunnan and majority in Shanghai. Only came back to hot little Singapore in the month of March. Love my OIAP days and not forgeting the winter times. Definitely a life changing experience for all the interns.

I think i can write a 5 thousand word essay and still, i can't stop raving on how much fun we all had. different people coming together. non of us were BFFs, except yongcheng and darren. everyday i think about where we went and when we went. i will look back at the photos occasionally and i start to wonder if there will be second time of this experience. Working in pivot and brainstorming events were also fun too! I think i enjoyed working there more than in sushi tei. =)

P/S: i love the last few weeks of my OIAP trip. you know why...



Then i came back and graduated with my diploma. First time wearing the robe, so i had non-stop photoshooting. haha.. Check out my facebook and you will know what i mean.



While waiting to further my studies, i officially quit my 3yrs Part-time waitressing job and made my way into Far East Organization. Started off as a 4mth secretary then i move on to be a 3mth admin assistant. Fruitful experience and had learned alot about the office "world". 7 months total, and i feel "WOW" cause i made it! Really miss my days doing waitressing cause its fun running around and joking with the chief. Plus i get to eat my favourite jap food lehs!

Now that i am jobless, i am looking forward to school reopening. As well as planning to join a new cca.. If i don't get into that cca, then i will consider volleyball again. haha! But i think 7 years of volleyball is kinda enough already. Time for a change. Lastly, i am planning to find a Part time job. INTRO INTRO ok?



I SERIOUSLY APPRECIATED yingxuan's 21st birthday party cause it was the only/maybe the last time that i will see the whole volleyball clique together. We pretty much separated when i left for china and we all had our final year, which led to work and then army for the guys. Sweetie pie will be going to Sydney next year. Or i should say, in another 1 month and 16days.....? =( BOOO.. It sucks. And when she is finally back for good, we are all OFFICIALLY going into the working society.

Other things that happened in 2009 were, my first time in JB... my wild nights out... the endless celebrations... ETC ETC ETC... you know why 2009 is special lar.. A year to remember for me.

So.. you have another 22hours to write about what you feel for 2009. And perhaps what you expect in 2010. I don't like alot of changes, but i am really expecting more fun in 2010!

P/S: I had the best birthday of my life. super loved. you know why... LOL.