*Blows dust off the website* *cough cough*

Haha.. I can't believe i manage to let so much dust accumulate down here! I don't know what has gotten into me. But i've been feeling really sleepy recently. I can skip my dinner and just sleep from 8pm to 6am the next day. =/

Anyway, decided to blog about the picnic day i had with the volleyball clique. Actually, it was a very small clique and a last minute picnic. Idea coming from me because i wanted to go to the beach and have a relaxing afternoon!

Skyped with Yingxuan and Ben on Thursday night and on Friday we stayed over at Yingxuan's place to prepare and on Saturday we headed for the beach!



Met Yingxuan on Friday at the 24hr NTUC to buy the ingredients. Can't give a miss to the chips! And coincidentally, we were wearing the same jersey! Cheers!



Regina brought her Mr.Patrick to Yingxuan's house and we were fooling around with it.. It's actually really quite cute..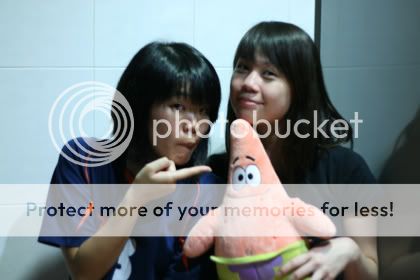 And as you can see, the girls were camwhoring while our hardworking guys were preparing the food. LOL. We sliced the ingredients and cooked the Japanese rice.



Nicely cut tomatoes by Isaac!



I sliced the cucumber ok?





THE NEXT MORNING.....



Maki time!



Everybody took turns to wrap the maki. But towards the end, it was all Isaac. (What's new?)



While preparing and snapping photos, i caught Isaac red handed! Hahahaha...



We wrapped sandwiches too.



And we brought out our Little Red Checkered Mat.



We started picnic-ing but we were kinda full because of all the pre-eating while preparing! LOL. So..... we ended up playing more volleyball. And at one point of time, a very very HUGE dark cloud passed by and we thought it was really going to rain heavily and alot of people left while some (including us) saw a huge tent being set up, decided to go over to seek shelter. BUDDEN.... it didn't rain. -.- It was just passing cloud. So we ended up picnic-ing under the shelter and we chatted while i accidentally fell asleep.