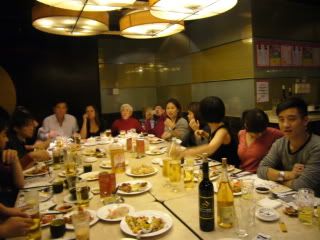 The annual Pivot Marketing dinner was held at an international buffet restaurant which served really good food and it is real expensive.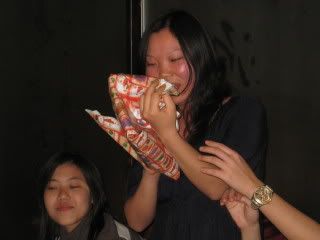 It was also the company xmas gift exchange party. hoho! Desmond got the black label johnny walker while i got 4 lip glosses (some supermodel brand) and a box of chocolate which i have yet to open. There were also 2 Ipod shuffle around the table but it had forfeits. =x Deadly forfeits like, toasting to every single people on the table.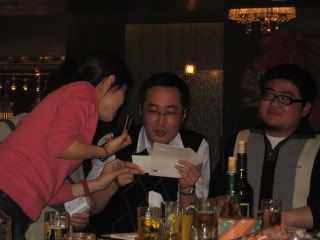 No worries, I didn't drink alot. Plus i drank red wine which was healthier. To prove that i was perfectly fine, i even went to eat fried rice with Yong Cheng when we got back home. LOL! We were still hungry because we didn't manage to eat much. We were busy chatting, drinking and performing their forfeits.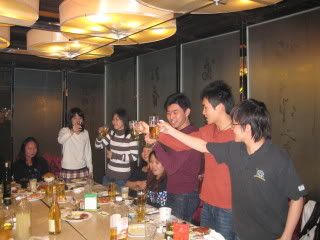 To er yi, who might be reading...... i am good girl okay, just that you know....... sometimes being new have to......... yah. HAHA!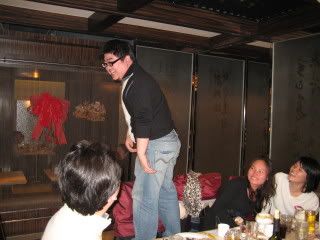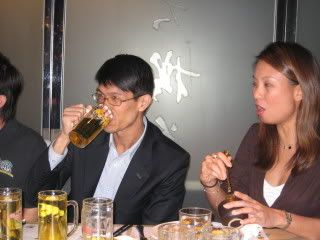 Head of PR and my boss, Emmeline.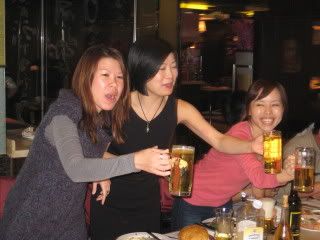 The December babies.



As you can see... plenty of alcohol provided by the company. And to think of it, both my bosses are female. Scary~

There are actually more videos and photos. But to protect my colleague from even more embarassement, she have bribed us and sealed our mouth by treating us a meal.. But when i am back, i don't mind sharing what happen! =D