I'm back and i braved through the storm in my sleep!

Stop food and water since last night 12am till this morning 8am and it got me all grumpy and QQ~ Then i was admitted in at 9am. Mum left and they told me to change. I wore the tied cloth thingy without any clothes on except my panties. LOL. felt so weird being naked inside and walking around. =/

I had a RED tag which i kept cause its special. RED tags are for drug allegic patients. hoho! special care.

Had blood pressure test and 3 doctors going through all the paperwork with me. The anesthetic uncle was abit cute. He cheered me up cause i was shivering from fear and coldness outside! haha.. he poke that freaking needle in my hand and i swear, its one big freaking needle. -.-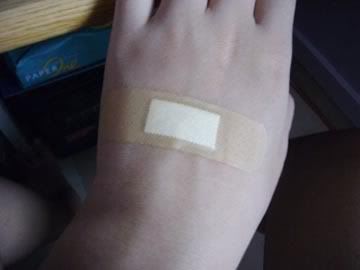 Went in to the Op theatre and the uncle said i will be aslp REAL fast.
The Op theatre was so cold! Cold till i was shivering. The next few things that happened around me became less visual. The nurse pasted those small pads on my chest and said it was to monitor heart rate. And i saw the uncle a holding a VERY FAT STRINGENT. =O
Soon he said, "you are going to sleep soon"
And while i was struggling to keep my eyes open shivering, i felt weak and a mask over my mouth and nose. He said "TAKE IN A DEEP BREATH....."

GONE~ ASLEEP. IN MY BEAUTY LALA LAND.



Pluck 4 that is marked "X"

When i woke up, i kept shaking my head. LOL. i forgot where i was. I forgot i had an opt, until they said the Op was over. Then i was like "very colddddd." And they quickly brough the warmer blower and stuff it under my blanket. HEE. I'm weak against coldness.
Then i kept shaking my head, coughing and cried after awhile. Ehhh.. i don't know why i cried but i felt nothing in my mouth. I had no feelings for my tongue.

On and off, the nurse came in and out to check on me. And when she change the gauze.... i almost fainted. One big long cotton was extracted out with BLOOD. She made me drink water which flowed outta my mouth (i lost the feeling to drink) And she told me to try again. And then some apple juice to sweeten my blood. Next, more gauze to be placed in my mouth to bite. Oh yeah, i wasn't hungry le. Maybe they gave me glucose drip.

But i sure felt a hell tired after that. Dizzy too.

They called Bestie and he came at 12.30 to pick me up. Had hard time changing back to my clothes. Lots of medicine given and instructions. haha..
NO SPORTS FOR A WEEK! darn.
ICE CREAM AND YOGURT WIDELY ENCOURAGED! haha, i am not really a big fan of ice cream, but whatever~

Now my teeth
.
.
.
.
.
.
.
.
.
.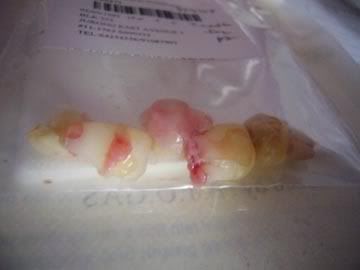 They pluck 3 full out. and one had to cut into half.


I realised when i was in the ward that guys are quite pussy when it comes to operation. Nono, is the 2 guys in the ward... They kept struggling when woken up. couldnt lie still and didn't want to open their eyes when the doc said so. -.- DISTURB MY REST! *roar*

Got home and the pain kicked in till i almost cried. And the painkiller they give is BEST. Eat liao then knock out... BACK TO LALA LAND!

Anyway, I'm fine now. No worries, Bleeding has lessen. And thanks bestie. I had to hold him when i was walking out. Ehh.. i can talk too!! LOL.