First time since my holidays aka attachment started, i haven't stayed home completely for a whole day. And i did it TODAY! Basically, no one is at home to bother me. Ive got the whole house to myself and the pathetic fact is that theres only maggie mee left. =(

I laze around the whole day. Shopped online. Did my little stuff here and there. Read my book. BLAH! How i wish everyday is like this!

Ive decided to order McDelivery ONLINE. Other than the 3x MORE chance to win the 10K prize, its quite cool and i get to pay under my credit card. *blinks* =D




I went into the website and found the ordering real cool and efficient, plus user friendly. Rather than the Golden Village website which takes god-damn-long to process my credit card information.

(continuing) i came across the sections which asks for "CONDIMENTS" (FYI: it means the sauces that you would like to have) The website only gave me the option of GARLIC CHILLI or KETCHUP for my McSpicy. =(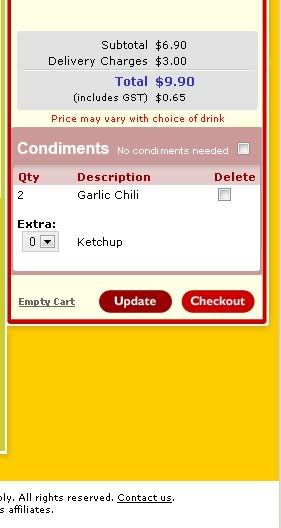 Desperate for MAYONNAISE and THAI SWEET CHILLI, i called up McDonald's hotline and ask for it along with my orderID. LOL. I think this is the "craziest" thing i've ever done. =p
I started "complaining" to the girl that the website only gave me GARLIC CHILLI and KETCHUP as an option for condiments. Politely she replied "oh is it? Okay, we'll take note of it."

Hey! i was trying to be nice and giving some suggestions on improving the website ok?

BORED ENUFF, i went back INTO the website and decided to test - What if i click McNuggets Meal. HAHA. Yeah, not too bad. Condiments section had more.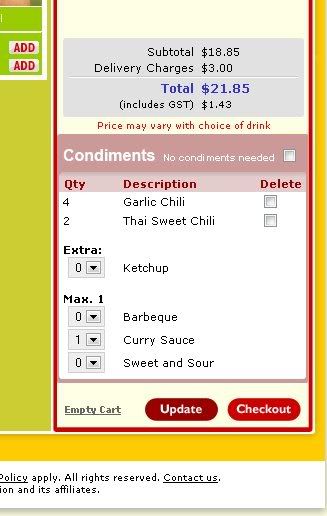 Okay! Someone's knocking on my door! Its time to dig into my McDonald's and glue my eyes on the TV. *skips*