Woke up quite late in the afternoon.. JKXJ drove so he picked me up from home.
Went down to Suntec area and started walking around.
Went around looking at Watches. Then We went into Moshi Moshi and i saw a very interesting ring. The muilti-bang ring. Omggg~~ its like rings chained together. then u just "roll" it into your fingers. haha! JKXJ saw a ring he like it so much, so he was busy trying while i was busy playing with the muilti-bang ring. =p
Ate Kelliney Kaya Toast.

Met up with one of his Army Friends, Nicholas .aka. Mickey and his gf.
Walked Around again~~
They were finding Stationaries in Marina Sq. And i really thought Marina never sell, So i confidently bet that the shopping centre dont have. END UP, i lost, cause Times Bookshop had. LOL... really very funny. 4 items had to be found, Ruler, Pen, Pencil, Eraser. -.-
Lose bet, so i must keep to my promise. Haha!
Mickey was laughing at us larr. =x
Ate Sakae Sushi (yea~ Jap food again, cause he misses them)
Went down to Rocher TouHua near Parklane for desert.

Then parted with them.
I and JKXJ went to cine for midnight show.
SURF'S UP - 12.55am.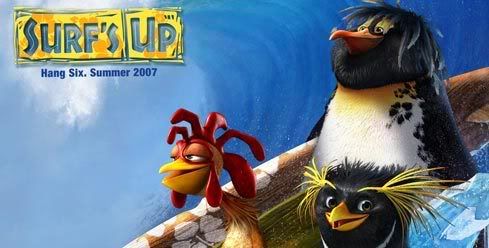 Thanks to Dawn now.aka. My HEADQUARTERS. LOL. Cause i always call her to check things for me online.
So last night she help me check movie timeslot. Hohoho..
The show was very interesting. The way they film it is very different from other cartoons. They Filmed it like a documentary. haha.. Enjoyed =)

Met up with Cherynn. Then we went to Geylang for TouHua AGAIN~~ wahahaha!!
Surprisingly, i saw HAOPENGYOU!!!!
Omg!! i was like screaming and hugging her. I think she Tio-Stun. =p

Then homed at 4.30am. *yawns*

Tired little girl wrote him a note and slipped it into his wallet.
Thankyou for this wonderful day.
Somethings can only be said written. Cause im shy. HAHA!

Pink roses are lovely.
Boyfriend for tonight.