its a boring day.. its POA and econs day. and i practically fell asleep while trying to tilt my head to read the slide. -.- luckily shu geok didnt laugh at me! wahaha.. but i think the only time i didnt sleep was when we had to do the class assignments. seriously, i hate listening to the teachers teach. i mean, if its something we dont know, then thats fine. but somehow, econs teacher repeated the tutorial answers for the benefit of those who didnt turn up. so i just faced my head down and SLEPT! -.-Zzz.. he said the exact same answers lorhs.

after school was the best, i guess. wahahaha! i kept buying food to eat while discussing on the IS project. we spent almost an hour brainstorming on ideas of buskers for IAC. and after finishing, we realise that another post up on the forum that they were doing it! wtf, all our effort went down the darn drain. bo bian, we had to carry on for LMS. so king kong (benedict) did the one-man show of IAC. we changed to the topic gay. =)

king kong had to leave early. so we did the LMS draft scripting. and i was too sian and tired and brain-clogged.



pei wen looking into the notebook. in search of inspiration.



larry "bird" being the nice guy decided to help us type out our distorted ideas.



we almost drove him crazy!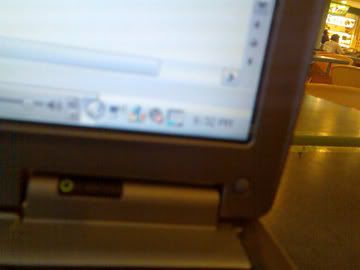 i called it a day at 6.34pm. *yawns* we were too tired to go on. its only 3/4 done though.
but still.. i love my IS group!!

looking forward to tml's training. got so much to talk to yx, jac and chyi!