YEAH. the same blogskin just that there are some changes here and there. the MOST obvious is the pictures lar! and the "one and only" word there. Please dont claim that the "one and only" is for SOMEONE k.. its for my BLOG. -.-the resolution is the same.. just that some pics may be abit small.. sorry! smaller = more pics!
another obvious change is when u come in, u see my family photo. YES. thats me.. dont go "wah.. u are so ugly.." or "wah.. your makeup is so thick.." cause its a wedding occasion DUDE!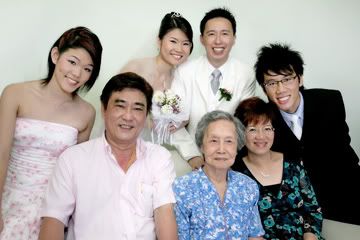 My Family Photo

Siblings - i miss them. sob.