Sunday - 12 Feb 2006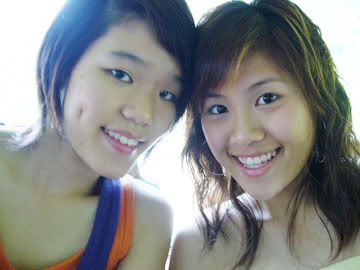 i, dawn, jon, james, gl, js and dear met to go down to mr lee house. its the last day of chinese new yr.. but i went there to see GINGER.. lalala.. ginger is cute. think she have grown fatter though.

stayed there till 1pm. then left to meet chyi and the other 402 peeps who were sending zitang off, at suntec. walked around. then went down to changi airport le.
had sakae sushi for dinner. then went down to see zitang at the departure hall.



the group photo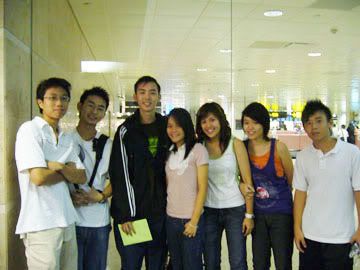 choon ngee and yu liang didnt go.. cos they know they'll cry -.-"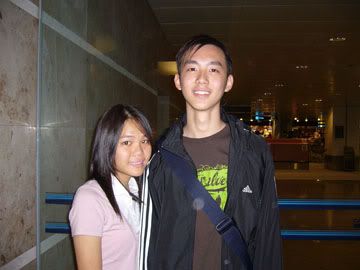 the couple.. sad for chyi lor.. haish.

i, dawn and xh cried when zitang left.. although dunno zitang very well.. but we went out for bowling together and went out shopping too.. plsu the fact he is my clsmate. nvr expect this day for my clsmate to leave like this to aust for studies. he scored quite well for Os lor..


Tue - 14 Feb 2006 - Valentines Day

How i wish everyday was valentines day ...

after work, rushed down to funan and met dear.. we had swensan for early dinner.



he gave me this lovely flower.. tulip - my fav !

after eating.. we decided to catch a movie, so we headed towards suntec. suddenly, we spotted a couple quarreling. the girl walked off quickly while the guy carrying the flower, walked towards marina sq calmly. i and dear kpo go and follow lor.. but lost track of him in marina. lols..
went to the cinema, didnt see any movie title that caught my eyes so we didnt watch =(
ended up, we went bowling. we saw this lao char bo-boss scolding this lao uncle-employee very loudly, infront of all the customer at the registeration counter. apparently, i think the guy screwed the account book up. anyway, the lao uncle really had some weird taste. his tie was dark blue with little flower patterns. like those market stuff. yucks!
anyway, the lao uncle never even give us our pair of socks after we paid, also never tell us what lane number. guess whats the worst part, we stood there more than 5mins, just to see him packing his stuff on the table, and finallising some paperwork. what the hell, there was a queue behind us le lehs. -.-"

then i bought this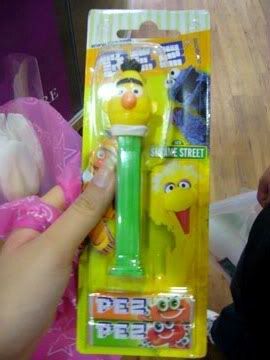 i havent played/ate this before lehs.. cos my mum thinks its a waste of money. hehe..


some random pics.
me: dawn.. i was thinking, y not we kiss here?
dawn: Siao arh? here public place lehs!
me: come dawn... dont be shy..
dawn: hao larhs.. make it quick. COME.
me: told u it would be quick..
dont u think this statue is cute?
attempting to climb up and dig his nose too..