im back to blog. ive been going out the past few days.. went to bugis, raffles, marina sq and suntec. wow! never tried hanging out so many days b4 =X anyway, ive basically bought 2 mickey mouse top, a sling bag and my working stuffs.

lets talk about something fun for yesterday.

went to Escape with Js, Jon and dear. Its my first time in my 16 yrs of living. >.<>

morning it rained, so most of the rides were closed. then after it stopped raining, they had to wipe the rides, so we decided to go haunted house.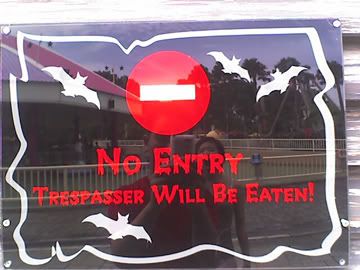 i spotted this at the doors to the house. lols.. stylo!
it was quite scary as u cant see anything in the house.. u had to FEEL your way through and the ku-ku staff who is dressed in a black coat would come up to you to scare u so that u can walk faster! hahahas... we were seriously walking too slow cause cannot see mahs!

then we played alpha 8... while waiting in a VERY dark room... this happen....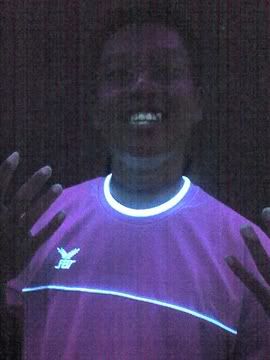 what the hell.. everyone was glowing.. even teeth and fingers sia!!
btw.. the ride really siao lor.. i almost fly outta my seat. and like mr lee always say "balls fly" sia.. i kept asking dear, "no accident here b4 mehs? got ppl fly anot? maybe got accident they nvr report lehs.." the rides really can freak u out. after that my legs went weak okay..
then...... today news, 2 gers kanna thrown outta the seat =X TODAY LEHS. i was there YESTERDAY lehs.. *faints*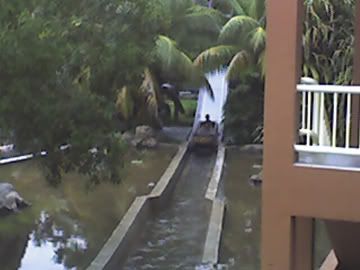 this is wild and wet.. shiok cos can get wet. but my ears pain due to the gravity.
this is the shorter one. 2 storey high.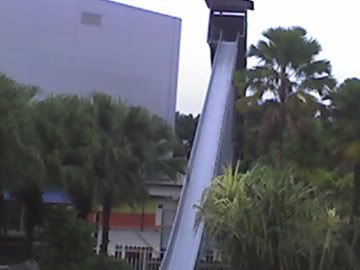 5 storey high... what if im up there???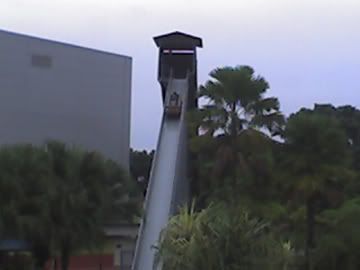 and she's up !!! arghs.. bear in mind ms madey has motion sickness and height phobia wor..
made such a big sacriface to play the game. =X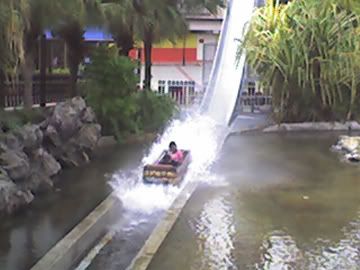 the boat when it lands... wEEEee! im wet!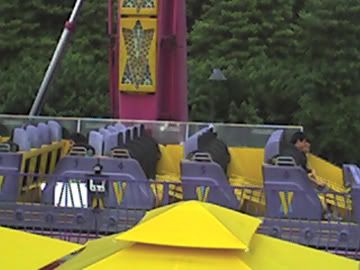 hen js and jon sat this. the inverter.
Ms madey cannot take it liao, so nvr sit. then her bao bei dear pei her lor.
dont see this purple thing like very chio hor.. cos its scary!!
and jon and js sat it twice. no wonder they felt dizzy af that!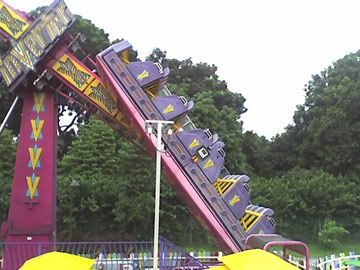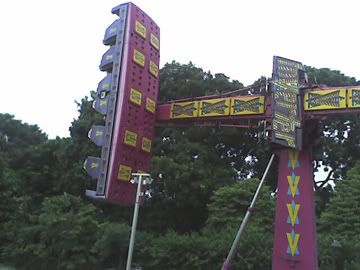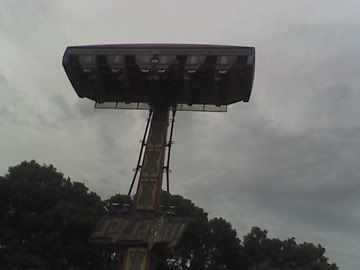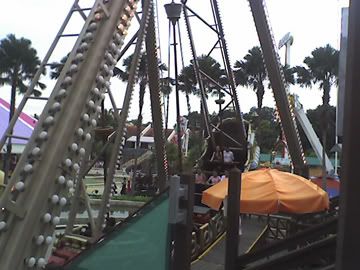 i dont dare again.. so only js and jon.

we played others like the boat in the water then spray water around de.. haaha.. that one fun cos we got wet entirely.. shiok! then we played daytona. its actually go-kart lar.. fun fun fun.. can act initial D sia.. hahahas.. play 5 times. =X total queueing time for all is almost 2hrs sia!! keep queung for 45mins. -.-"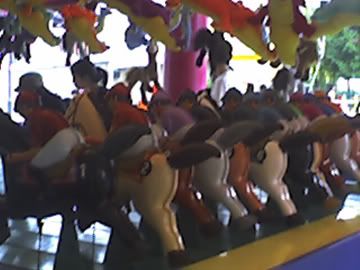 then sian liao.. so play horse racing..
throw the ball into the holes so as to make the horse move.. dear won sia!! so got a toy.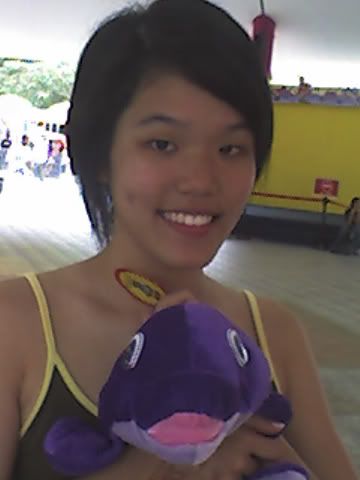 tada!! pic looks abit weird cos its dear's phone camera. =)

ended my day at almost 7pm there. spend 7hrs lehs.. =X
then saw pri sch friend domanic and koh li they all from my class. so qiao sia.


just now went jp with dawn, chyi, dear and js. bought our shoes and pants for tml. so hard to find a cheap working pants lor! all 29.90 or 39.90. fianlly found a shop sell 19.90 =) hees.. then bought BATA shoe.. came home at 9+.
morning i pack my room for hours lor! then now room no books le.. empty empty de.. hees. im happy !
tml start work for training le.. im excited cos there seems very very fun wor! alth pay not that good. but hope the ppl there is nice can liao.

ANY SEC2S GOING UP SEC3 WANT BOOKS/TEXTBOOKS/TYS/NOTES. GMAIL ME AT madeylim@gmail.com . I GOT COMB.SCI TYS TOO... =)