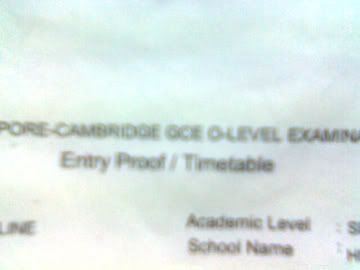 My entry proof... in a piece.
my entry proof... in pieceSss!

wahahaha.. apparently i tore it up after keeping it in the yellow file for 2wks and a day.. i decided to tear it! its useless now.
now im awaiting for results...... chalet...... money!!!

im on a super high mood today! first, that ex-huayi senior got in!!! then i found out hp oso got in!!
lalala.. hyss have 3 lehs.. so li hai.

then after paper went to jac house with choon ngee. yeah! played with the 2 cutie dogs then borrowed comic. then we met cheryll and headed down to NUH to visit pryor. haish.. his face looks so white.. and i really pray that within the next few days he can be out of hospital. luckily he have choon ngee's portable tv! hahas.. its amazing. cos we stayed there till 8+ as we were watching tong xin yuan. lols.. tai li hai le. then i saw this malay male nurse that have a pair of very attractive eyes. i dont know how to describe but it just causes me to glance one more look at him. *shrugs*

this week i gotta go KBOX and shop with my sisters..
then go MCS with ryll.. we are CFC ChloroFluroCarbon Cheryll Fan Club.