Caught night at the museum 2 last thursday and i must say that it is not as nice as the first part. The jokes were very verbal and i think too "cold". Prefer the first part where actions do most of its laughter. Anyway, its still worth a catch.



On Saturday, i made my first visit to wild wild wet after 19 years of living. It was a free entry because i had the family day tickets, so it was a really chill-lex day. Love the Foam Area they had. HAHA.. you know those foam parties zouk has? Yea, there i was playing around it. Then i took one of the crazy rides that requires 2 person to sit in the float and it slides down from a very very high end and goes a U-Shape.

WAIT! Let me find a picture online.......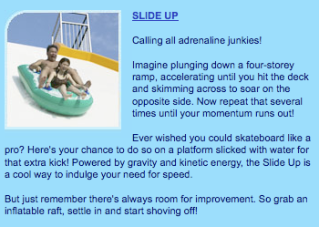 Okay, not really the picture that i wanted to show, but READ the description! I swear it was scary.

Headed down to the OIAP gathering after that.....



The long awaited gathering for the OIAP since we came back was arranged last saturday at Sheryl's house. Thanks to the hard work of Qiuting and Sheryl, the bbq was possible. I only helped a little as i was really busy (that explains why i'm missing from the bloggersphere) Anyway, there were alot of left over food at the end of the day. And almost everyone got thrown down the swimming pool, sheryl clocking in the most number of times. haha!




T707 - Spring Rose (love love)



Don't you find this phone lovely?