I woke up in the morning and opened the letter box. I found a singpost envelope without a postal code and without a name. Luckily it wrote "Westwood walk ......" HAHA!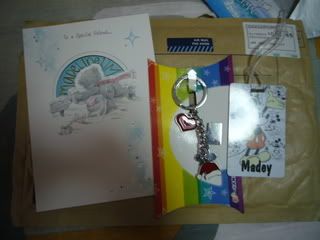 YES! I've got it.

Thanks babe. I almost cried while reading the card. I miss you too. And i can't wait to sleep with you again. =p The mickey mouse tag is so cool lar! Got my name. HEHE. I think more and more keychains on my house keys..

Loves.


P/S: I am waiting for celia, rainiee and daphne letter then.

P/S/S: I just read Janice's blog. And i miss training. Every post is about volleyball and i doubt i can play it now. 6 months without exercise and volleyball. Gosh. Miss the training days, mac days and of course "Apple Orange?" I am wearing all the different jerseys every night larhs. Miss Yx, miss ben, miss yuting, miss ginmin, miss chyi, miss all the vballers and gers......