I cannot remember what i did last week. But weekends were quite packed!

Saturday helped out for S&W event in the morning. Woke up at freaking 6am. zZzz
Briefing at 7.30am with the volleyball advisor and then down to the court. Sun wasn't totally up yet so i gave miss to the sunblock lotion i bought. But God knows at what time, the blazing hot sun came out and had me burnt! nono.. grilled~~~

Yx and Jac came to the court and find me. Left at 1pm and went over to yx's place to get her sentosa stuff. Headed down to sentosa and met the rest!

There were a whole lot of us. Consisting of benjamin, benedick, yuting, zuoting, yingxuan, yuting, jestyn, shunliang, jianming, vincent, gary, shuhui and myself? Did i miss anyone out? hahaha.. Too many to be named!! I guess everyone will be heading to the beach the next few weeks because of the upcoming Ripcurl competition. Sad to say, i'm not participating - giving a miss to that singlet.

Got bored on the beach and vincent started building something on yingxuan. 1st partner is Zuoting.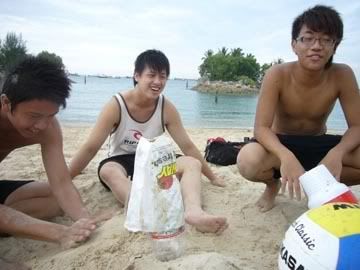 2nd partner, jianming



OUR MASTERPIECE



Victim



3rd partner, MYSELF!



This is SUPPOSE to be wrong. M18.



R21??



MUAHAHAHAHAHA!!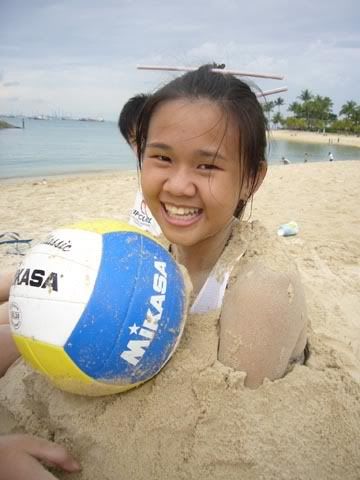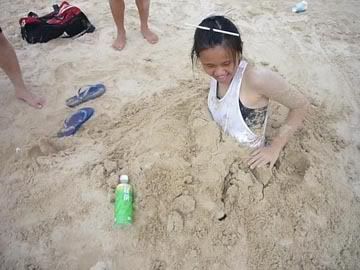 Getting out liao..

Then yx went down the water to wash.. the guys then decided to carry me down as well.



I screamed like mad and due to unforeseen circumstances, i cannot be down in the water. =)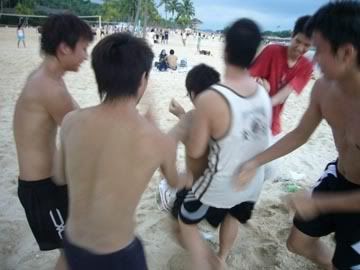 Then they grab zuoting.



DOWN THE WATER!!!

Suppose to watch Dark Knights but the tickets sold out fast even for the midnight slots. Had RC sushitei and Zuoting loves it now! =D
Great influence to friends. hehe..

We were not determined to head home so we went princep street MINDS CAFE for boardgames! Haha.. played a number of it till 3am before heading home... TIRED LIKE HELL LAR.



I've officially finished my portfolio for one of my IS and i'm so happy. Although our portfolio didn't look as colourful and great compared to others.. but i think we really did well for the previous few assignments of creative brief and pitch and we were consistent. Impressed that we had such a brillent idea for our press ad and posters, i can't wait to see what grade we'll get. haha.. i know the E-triller was a slack but bo bian lehs. =/ Though we lack the punch, but we definitely put in our heart and soul for this whole process of DPM.



Shugeok.. and another memeber who is missing is Jean. =)



Press Ad.



Depicting engineers creating calculators.



Depicting the creation of MP3 players and other advance technology in music.



And of course colour screens and TVs.
Credits given to kahkian who helped me find this TEST CARD picture. Omg. i had such a hard time finding this pic because i didn't know what it was called. -.-