I really hate the coming week 13. Let me see, one group project due, one individual assignment due, one written test and one solution call to make! WTH. EVERYTHING IN WEEK 13. Shit it. i feel so tired everyday that i'm missing from school the whole week. darn.

Anyway, i really gotta announce my love now! like... NOW!

I LOVE YOU ZHIYU!

She's the best man. She helped me get from Jean my PPP book in the afternoon. She walked from canteen one to library although she was very busy. Felt seriously so pai seh and bad liao. Nevermind, she made her way down from clementi to holland village to pass me the book because i was working! Gosh. When i met her outside sushi tei, i even receive a STARBUCKS MUFFIN!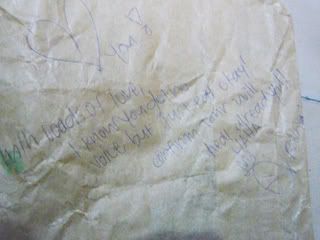 She wrote a note on the paper bag and passed it to me. haha.. Although i had a very SEXY VOICE but i still finished every single bit of that muffin given.

And what i gave her in return was just a hug. Darn. i feel so bad larhs. Plus i rejected her outing tml night cause i know i won't be able to enjoy myself even if i'm there. Dying to go, but now with my condition, it also equals to dying liao. =/


P/S: THANKS babe. You really made my day/week.
P/S/S: You take care tml night ok? Dont get drunk, don't let others eat your toufu.
P/S/S/S: Most importantly, only give your number to good-looking guys ok? tsk tsk!