Skipped the IT fair yesterday and had my well-deserved sleep plus the time to do my school work. *contented*

went out for dinner with Jinhui, YongSiang and Ginli at Fish&Co. glass house!
Ordered black pepper stingray, seafood platter for 2 and mussels penne. on top of that, ceasar salad with smoked salmon!
And it was a free meal for me cause Jinhui treated me! LOL. he suddenly remembered that he promise to treat after getting his first pay. Soooo... yea! after so many pays, he finally got his chance. and i think, i still owe him a M18 movie treat too! =x

we walked over Plaza Sing and had deserts. Yongsiang treated us!
Thanks GuyS!


Before i met them, i was waiting around douby.g mrt, so i shopped! the shoes were real comfy!!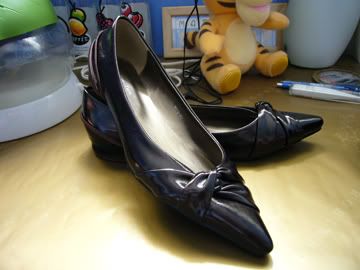 Another flats for my shoe rack.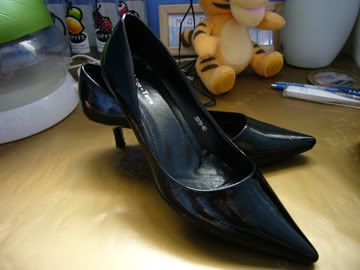 Black heels for more formal look. prepared for my ITP! =p


After the meal, we walked down to cine and there was a mini flea market. Bought 2 shirts.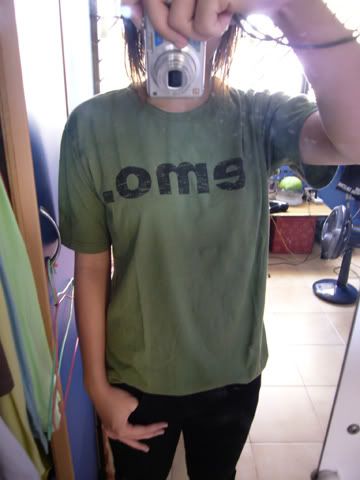 This is for boyf. YES! i tried it! and its real comfy! i love the colour, i love the word. but it no longer have the female size and colour! Sobs.. so i bought for boyf so i can contd to see it. =D

Its also part of the "monthsary" present. like duh~ you dont have to wait till monthsary then u get a gift right?!
he's presence is always lingering in my mind. i cant shake him off, i cant forget him. so i live with it and think about him 25/8 and eventually, whatever nice things i see, i see him in it. that kinda makes me feel broke. good thing is, i seldom see nice things in him! WAHAHAHAHA!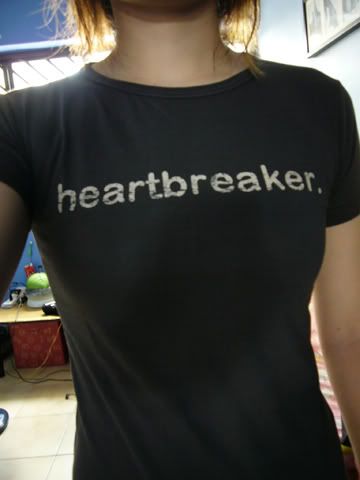 This is MY SHIRT!
Ginli has one too, in bright peach colour!

after receiving their bag, then i discovered that the shop is originally located at holland.V, opposite sushi tei. LOL.
i think in future, if i need shirts, i know where to head to!