Polympics 2007
WE CLAIMED THE CHAMPS!
=)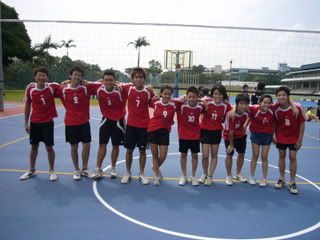 Team Wide!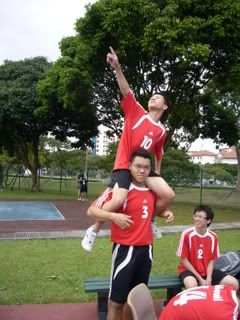 Our captain Nigel (feeling proud of our team). With the A.B (angry beast) Augus.


i had a sleepless night. 4.30am then i went into my dreamland and woke up late for KAP breakfast. but still, i made it there. Lucky thing was that, yingxuan called. lol..

8am-9am we played our first match. not bad... could sense the "on form" feeling. we won and we waited to play for the 1st and 2nd placing.
When it started, the sun was scorching hot.
AND YA-DA YA-DA, we got an ang gu kuai face. (-.-)Zzz

If im not wrong, first and second set was a close fight of score. eventually, we won. it was all about the mind tricks. who stands strong, who stands firm, they will resist all barriers.


The whole morning, we just cheered FOR SUSHI TEI! it was our slogan for Champs. And we really went there and had a scrumptious meal! HOHOHO!! we went there not to comfort ourselves but to claim our credit! And with Ah-Foo as the great chief, he really treated me well. =D

We received our trophy and i can say one word "kiddish" -.- i seriously think last year's design was WAY BETTER! and i bet last year was more expensive cause more weight mahs.

headed to clementi after meal, having the intention for pool games. we end up playing this arcade mahjong game! LOL. JAP RULES LEHS. i went speechless after losing to a uncle. zzZ.

Sweetie pie got her car and she sent me home! omg! her vehicle is so cool and spacious, thanks for the ride anyway!

Had a 3-hour sleep before heading out to meet boyf. TONIGHT IS SO WINDY AND COLD! we went up Mount Faber and it was SO NICE! gosh! we had our drinks and went up the highest point on the hill.

ANYWAY! Photos are yet to be uploaded.
keep waiting!
im heading to bed now with the aid of baileys.