Once Again, another early MORNING!!
*yawns*
Kahkian morning called me at 7.15am. i rubbish (dreamy) talk with him for 5 mins then i told him to call back at 7.45am again so i could sleep more. heh heh.
I was SUPER tired although i slept earlier last night, but i just felt my whole body falling apart.
anyway, met them (jiesheng, jon and kahkian) for breakfast.

Headed down to school. took bus 99. then i overslept, and went into the clementi interchange. so bo bian, have to walk out, then i missed the bus 52. so i waited very long for the next bus.
Reached school, I&E project discussion. 1pm, we were done le. 2 hrs =)
Stayed behind and watched BLADES OF GLORY on my laptop while Rainiee watched Shrek3. LOL. We were laughing our ass off in the room on our own shows. stupid sial~

Watched halfway, then had to meet ronald le. so i took 184. On my laptop in the bus again, i ended up missing my bus stop and then went back to maju camp that side (thats so near back in NP again) LOL. rushed down the bus and went over to take another bus back.

Ronald almost killed me cause i was late for 15mins. then we took a mrt down to town. Walked around. TALK TALK TALK. then i bought my red crumpler!! WAHAHAHAHA!
WOSH! thanks for the votes!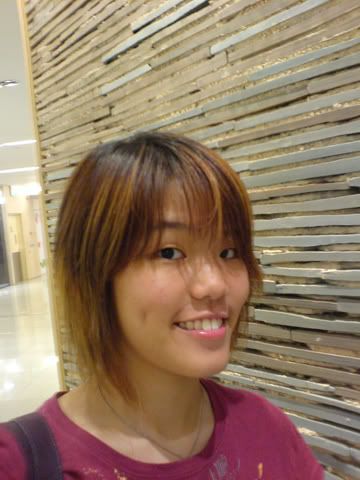 nice carrier!



Thanks ronald for carrying my laptop the whole day =)



HAPPY LITTLE GIRL WITH HER RED BAG! *skips*
Thanks to kahkian and jiesheng's sponsor of $60 =)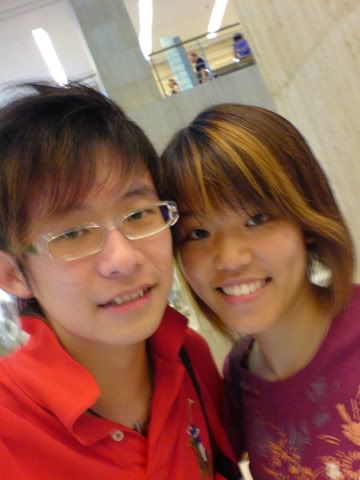 Met jiesheng and kahkian at about 7pm for dinner.



Kahkian with his injured leg. See, i brought him out today to see orchard again. he have not been in town for a month. hohoho..

Had kopitiam stingray, lala, kangkong, squid and oyster omelette. Food SO-SO nia. -.-Zzz
Went to Cine foodcourt so that jiesheng could have his 2nd round dinner. haha..
502 home... SLEPT all the way. gosh. Tired shit.

Im SO happy today. Cause its wednesday. I bought my crumpler bag. I found out the price of my bear hug hug le. I met up with dear Ronald, kahkian, jiesheng and jonathan AFTER SO LONG And AND AND AND........ i had more than an hour of laughter over the phone.

Thanks for staying up to wait for my call. I know you were tired le.. yet you still talk till your hp low batt. its been so long since i laugh at every sentence u say. haha!
Friday Friday Friday!
Lets take it slowly.. :)

Im sorry, but im still thinking and im still wondering.
Is it me?


RANDOM: First Date With Xing

That day, we took the same train. but we were in different cabin. So qiao!



Had Ichiban Boshi at Suntec.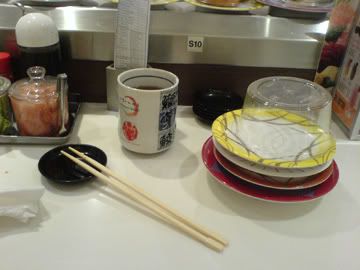 Had tempura icecream!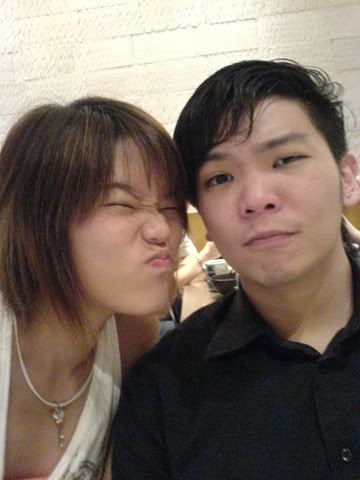 As Usual, 鬼脸!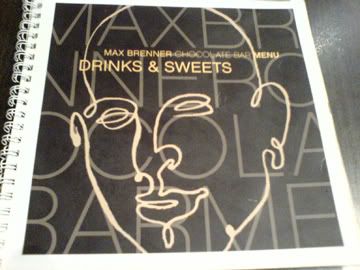 Made our way down to Esplanade. Had Chocolate drink!



Very cool Cup. the straw is metal!



Yeah! DRINK ME!
I had a Great day!

Met karyn, cherynn and the rest at orchard for Sakura Buffet. JAP SIAO DAY! hah!
i bui sian one lehs.