came back from training and mac session with vballers at 11pm. it was a lucky thing that charles kor msged me, if not i would have overslept my busstop by more than one. btw, i overslept by ONE. so kor called and pei me talk till i got into the lift =) thanks.
my whole back hurts now. but im happy with my digging today. not really digging but i volleyed alot of spikes from chyi. tsk tsk. happy that i also served over with upper hand. but not happy with my spiking. =/

i need rest.

went to school earlier to do project with IS.


first time go into the library rooms lehs. cool =D

IS mates and volleyball frens said i looked pale. seriously, before training i was really feeling weak. im not tired or wad.. just - WEAK. but after that i felt better le. heng no running. next week sch start le. will be seeing TB30 le. will be having proper trainings! will be ultra busy. you'll only see me online past midnight. dont be suprise.

after volleyball was MAC session.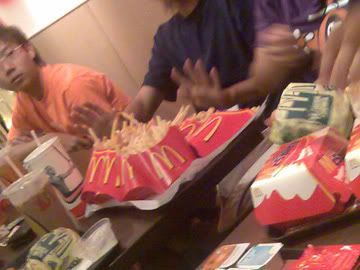 our fries!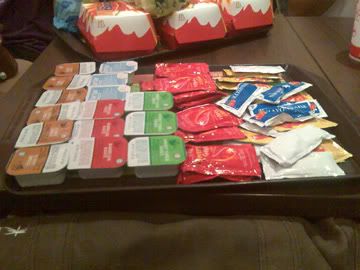 a tray of ALL the different types of sauces available in MAC.
we had our meals served to out tables cause this crew (who was abit "high") had our orders taken on the palmtop. then she went down. after awhile, she came up with the drinks and food. her voice was damn loud. and alot of people were looking and thinking "why this group of students so special, have their orders taken at the table and served!"
wahahaha... NPVB made a name in KAP mac.


had a talk with some people just now. gotta note down some of my thoughts.
i figured that i am really busy. like someone said "u are the busiest 1st yr student i have ever seen" yarh- i am. and i think i should not drag "him" down or make him suffer if i be with him. right, someone? im not lying to myself. but..... really, if "he" havent pushed me so hard, maybe accepting him back is easier. but now, i dont feel good, ye c.

next, chat with someone2. figured the problem with someone3. Hmmm.. i should just say "even if we allow, u dun put in the effort, it is still ptless. sometimes, we should learn to be independent, have your own life and have your own way. if you continue liddat, you wont succeed wad u wan in your frens life. you gotta take a step outta your shell."

lastly, to someoneR. if you had noticed, we've(the clig) driven away from u. probably through the camp, we've seen your real self. if this is you, and we cant accept, we wont force u to change or confront u or wad. but... im glad you've found your own grp le. still a team, forever a team. but..... close frens. abit hard for us to accept. maybe, you gotta try and think of others, not just urself.

yx: take care k? hope u will be fine soon...
dawn: turn into a GUY lar. tmd.