ewww... sorry dar-link bloggies. i went missing and didnt hand in my homework (photos) on time. =/
but i had my reasons lar.. i bought the digital camera charger near suntec. and i told the uncle that i was using a Li-20B battery.. he gave me a Li-30B battery charger and said it was the same, can use! wah lan.. in the end when i got home, i cant charge. then i bought a XD card reader so that i can upload the photos. sadly, my multi card reader cant read XD, so that also contributed to the delay in photos.

anyway, this week im sent to citylink to work and dawn at raffles. omgosh... its tiring, and i miss the sun. (both outlets are underground).

last week went back to school le. saw the new principal during the sec1 first meet the parents sessions. she is quite nice and her name is mrs leong. ku-ku maj loh and mr lee sabo me. they told mrs leong that i was very excited and kept wanting to meet her, then still say i wanna hug mrs leong. omg!! in the end, mrs leong really hug me lehs!!! -.- i pai seh x100000000 .

i also went back to school to wish rachel a happy birthday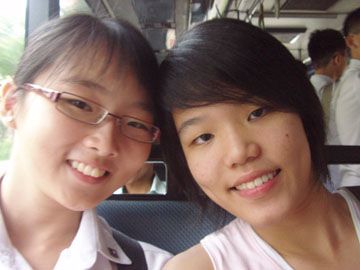 then i saw ronald, and then i chat with teachers. and went to have lunch with the bunch of siao kias from sec2 and sec3 (if u r reading this, u'll know who are u!!) WAhahahahaha...

continued to go back the following 2 days to see the sec1 camp after my work. the first night was damn funny, some of the leaders bag were locked in the gym room. then mr cheong forgot to ask the GO staff not to on the alarm lock for the gym, in the end, all cannot bath till next morning 6.30 !!! lmao.
poor thing lehs.. somemore the whole camp it was raining. i think this yr food better. but games and organisation, yvonne they all say last year better. =D

next, ive finished doing a 1000piece jigsaw within a week. kind of slow, BUT you must considear i am also working mahs. so bo bian. let u take a look at the growth of the jigsaw.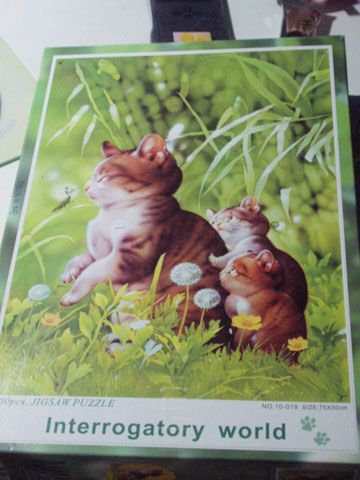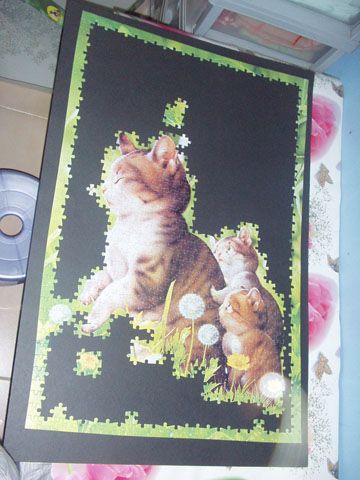 done with putting the cat pieces together.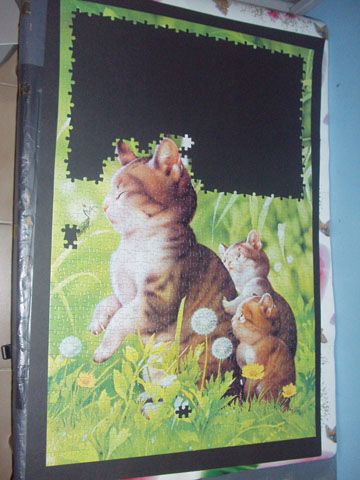 spent about 2hrs on filling the bottom part.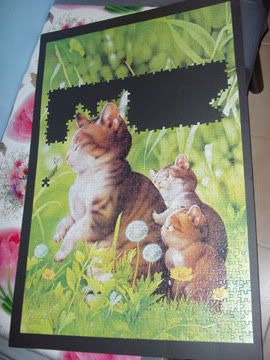 almost done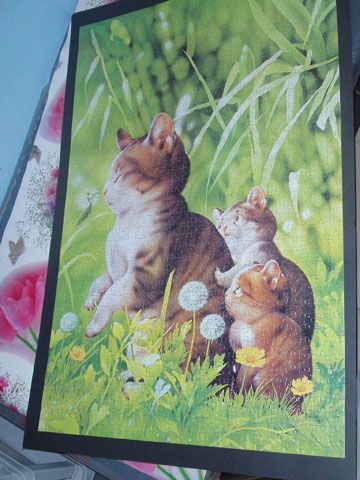 ta-da!! done. now im gonna send it for framing.

went out to shop this few days when i was having off. a few days ago, i and dear went to far east and i saw this white with pink strip converse jacket. it only left with the L size and i didnt want it to be so big, so i said "nvm" and had my mind set on it. decided to go to the other outlets to find. went to heeren, but dont have then we ended up at sakae sushi.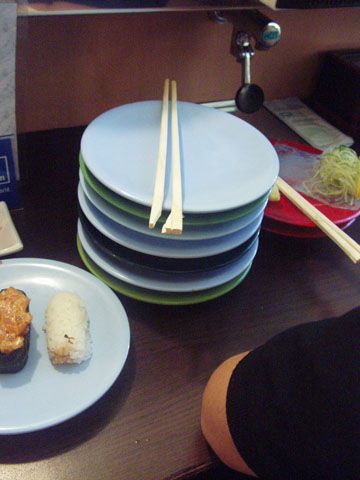 we ate 12 coloured plates and 2 red plates in total and 2/3 was eaten by ME alone! wahahaha. that meant that i ate more than dear lor! i treated him that meal, so of course when i eat, i oso eat until more shuang lar. =)
continued our search at junction8, also dont have!!
took a cab down to westmall because it was very late le.. still dont have.
bo bian, went home empty handed.

the next day, after work, we went down to suntec, still dont have, so i ask the sales assit. and she said it was an old model so dont have le. *crys* i like lehs.. then dear was gonna pay for it along with the voucher.

today after work at citylink, dear and chyi came down to find me. then we went to raffles to find dawn who was working. saw that they were very busy, so did some voluntary work and then went off to far east le.
shopped with chyi and dear bought a billabong bag. nice!! =D is the new design bahs.. while me lehs............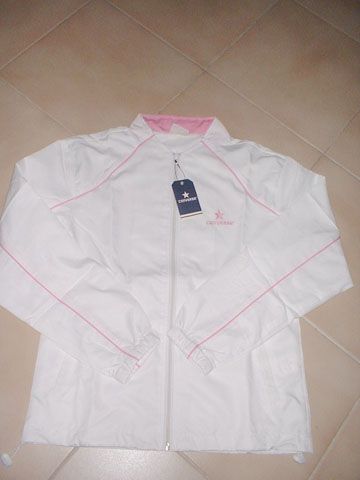 the converse jacket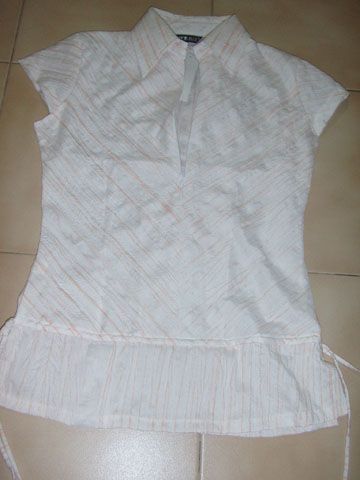 a white with orange strip top for CNY. simple and can be worn with a tube inside and then pull down the center zip.

that day i also bought 2 tubes, very simple de, so i guess no need pic lar...hor?

as of how to end of this entry, im gonna show a series of photos from the "earth from above". it was an outdoor photographic exhibition and i caught some very nice and interesting one.
WARNING : IT IS REAL. TAKEN FROM MOTHER EARTH.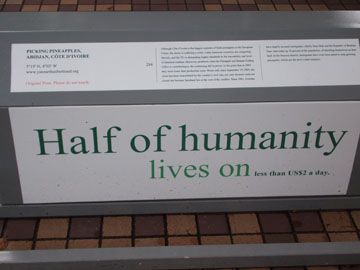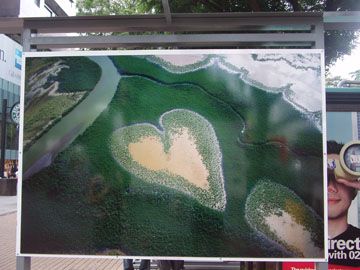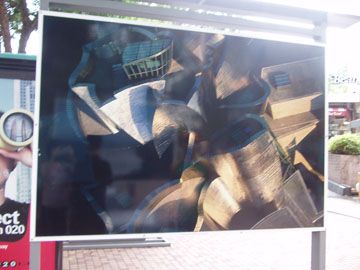 this is a building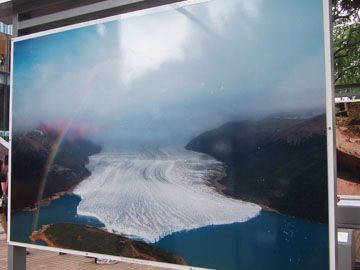 notice the rainbow? i wonder how the guy shot this pic!!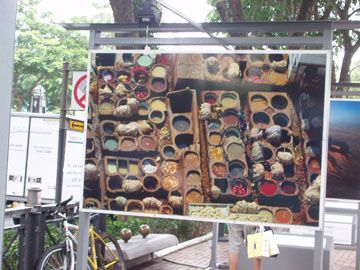 the buckets of different colours are clothe dyes.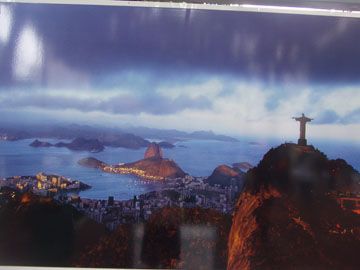 chio hor?!!!!


cant remember what this is exactly, but its somehting to do with algae.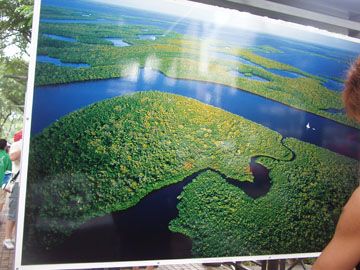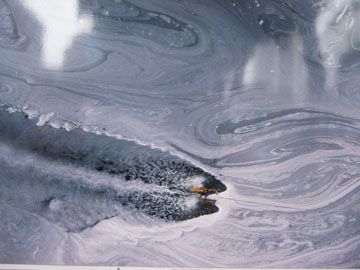 guess whats this?
it is the window of houses!!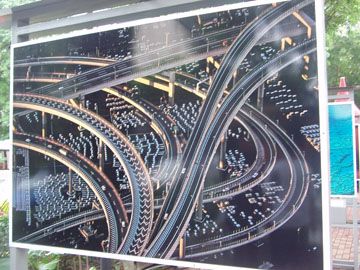 this is one of my favourite photos.
it is the roads in japan.


the unforgetable Twin Tower in US.