i know.
i know.
i know.
lack of entries.
wahaha..

Zitang went back to aust. and we went to eat sushi tei LAST thurs. Yummie.. nice nice. the manger treated us 2 plates of hanasaki tempura and 2 plates of chocolate waffle. 8 people went to eat. and we ordered A HUGE variety of food. everything eat small potion then all different kinds lor. total up $122 bucks. after stuff discount, about $110 =)

friday was the LMS play presentation. those had scene in the office, had to wear formal - im one of them (but too bad, not pic)
and Ms crazy forced my two BOY-friends to take a picture.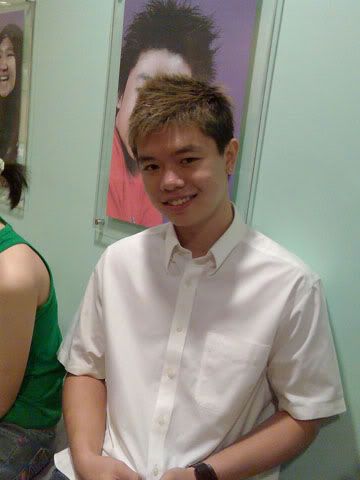 Mr Decent King Kong. in this pic, i hate his smile! wahaha.. damn "crude" larrr...
but he looks x100000 times better compared to wearing a "singlet" to school.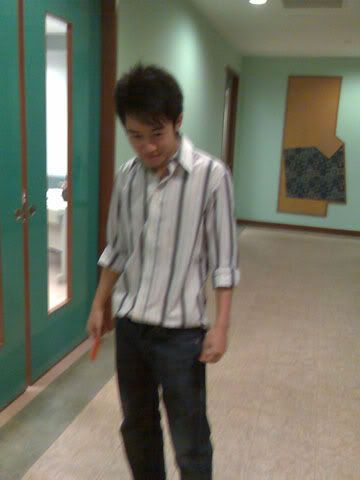 Take 1 - Act Cool (pass/fail?) i dont know what he is trying to do lar!!



Take 2 - Larry acting as John, the MR.NICE GUY everyone adores and loves.
he is Better off without a cap =)
he kept complaining he look "gay" but i and pei wen thinks he look very nice in this shirt. and we insisted he wear it down to orchard to meet his friends for movie.

sat was work.

sunday was the day i resigned from C&T. told mr jack le. then he called me and asked me for the reason. he thought i quit cause he never give me longer hours. but i told him i needed more flexible working hours to choose from. anyway, he was very nice, he still invited i, dawn and chyi down this sat to the new outlet's opening. i wanna be there!

mon EARLY MORNING - world cup fever till 5am. France Lost. Sob. felt grumpy the whole monday cause France lost and the LACK OF SLEEP. the whole class was half dead too, cause half of the class stayed up. FOUR YEARS ONCE LEHS!! - must liddat think.
felt today's Econs was DAMN USEFUL. i mean, i realise we were all STUDYING, LEARNING and ASKING MEANINGFUL QUESTIONS *thumbs up*
i seriously wish no failures for this common test 2. if not that idiot going to walk in to nag at us again.

after lessons waited for Mr.Ronald to end his class then went to KAP mac to rot and crap. had my McWings. Yum =D
left at 6.30 then went home. SLEPT MY WAY HOME. =/ the bus was damn crowded larrr..
sigh* reach home then SLEEP again.